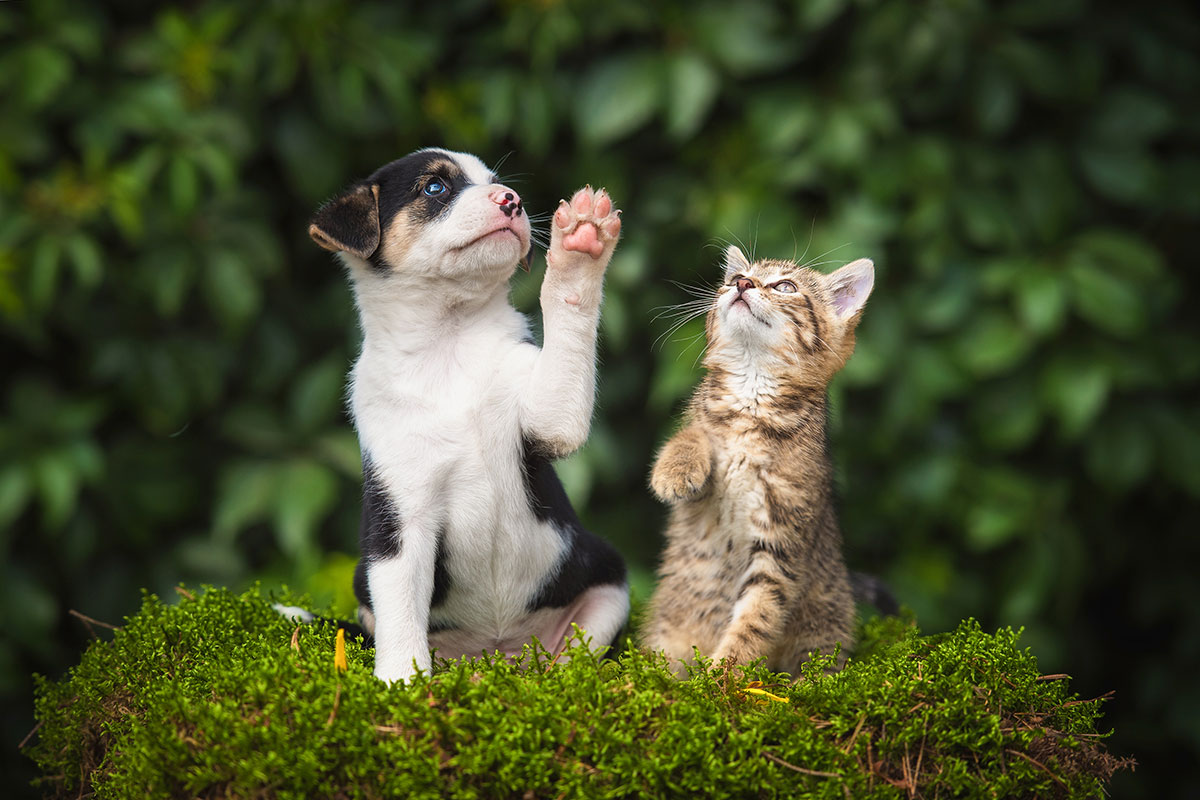 Learn how to take care of your fluffy little friend and set them up for a healthy future
A new puppy's or kitten's arrival is an exciting time. It is also a time when you are often bombarded with a lot of information about all the things you need to do.
We offer a free first puppy/kitten check to make sure your pet is healthy and provide care information.
Vaccinations
Both puppies and kittens require vaccinations at 6-8, 10-12 and 16 weeks of age. Often the first vaccination will be given by the breeder before you purchase your pet.
Read more information about vaccinations.
Microchipping and Registration
Microchipping and Registration is compulsory. Once again microchipping will often be performed by the breeder, but if not can be safely performed during a consultation or if you prefer when they are desexed. You must register your pet with the council by 6 months of age.
Read more information about microchipping and registration.
Intestinal Worming
We normally recommend worming every 2 weeks until 12 weeks of age, every month until 6 months, then every 3 months thereafter.
Heartworm
Heartworm is a blood borne parasite, spread by mosquitos with the worms living in the heart. This can eventually lead to heart failure or sudden death from a blood clot. It requires either monthly worming with an oral or topical heartworm preventative, or an annual Proheart injection can be given at pups first annual vaccination and then continued annually.
Flea Treatments
Fleas love a warm, humid and sandy environment. Therefore in Newcastle we tend to have significant flea problems all year round. There are multiple flea products available. The most appriopriate product for your pet may be discussed with our staff. Some combine a treatment for intestinal worms, heartworms, or ticks. Most are generally a monthly preventative. Flea products such as collars and shampoos from supermarkets are generally not effective on their own.
Tick Prevention
The paralysis tick is present in most bushland areas around Newcastle. A single female paralysis tick if undetected can kill a cat or dog of any size. If you live close to the bush or go walking with you pet in these areas then regular tick prevention is recommended. Frontline and Advantix topical treatment provide 2 weeks prevention against ticks (frontline spray lasts for 4 weeks but must be applied as directed). Dog tick collars such as the Scallibor collar provide 3 months protection. Bravecto & Nexgard are both oral chews that protect against ticks and fleas on dogs. Nexgard must be given monthly and Bravecto every 3months. The worst time for ticks is from September to Christmas, but they can be active all year round.
View more information about tick paralysis.
Desexing
Recommended for both dogs and cats at 5-6 months of age.
Read more information on desexing.
Puppy Preschool Classes
These classes are for puppies between 8 to 15 weeks of age and are highly recommended to allow a safe environment to socialise you puppy, learn how to train your puppy and discuss care of your puppy in more depth.
Read more information about our Puppy Preschool classes.
Nutrition
For kittens, we generally recommend a premium, complete formulated wet (tinned) and dry kitten food. Avoid supermarket brands. Lean fresh meat is great. For puppies we recommend a premium brand dry food. For large breed puppies it is very important to use a premium large breed puppy diet. For both cats and dogs avoid fatty meats, food scraps and other fatty foods, dairy products, and calcium supplementation. We do not recommend bones for puppies as their high fat content can contribute to growth abnormalities.
View more information on feeding your dog or feeding your cat.
---
By Brunker Road Veterinary Centre
Last updated on 20 May 2021